Valentine's Day Gift Guide Based On Your Zodiac Sign
We are back again with our valentine's day gift guide based on your zodiac sign! If you're stumped on how to surprise and delight the most important people in your life, look to their horoscope. We've gathered our favourite gifts for each sign and we hope this gives you some inspiration this Valentine's Day.
Aries (March 21-April 19)
The fiery Aries in your life will love the Drinking Buddies – Men In Uniform. These hunky firemen Cocktail stirrers Everyone needs a drinking buddy, especially one who looks great in a pair of suspenders! Hang a hunk on the side of your glass to mark your drink and avoid mix ups with your bubble of love.
Drinking Buddies – Men In Uniform
Taurus (April 20-May 20)
Give the gift of self-care to the peaceful and serene Taurus who is always doing things for others. After a difficult day of always doing something for others, the Busy Making A Fucking Difference Men's Socks is what every Taurus needs to have to relax and keep their feet cozy.
Busy Making A Fucking Difference Men's Socks
Taurus (April 20 – May 20)
Taurus's love their down time, they are very grounded and most likely have their self-care routine down to a science. Help them elevate their rituals this Valentine's Day by gifting them the Calm Club- Big Night In. They also love the art of design so you know they will most likely snap an Instagram pic of this before they settle into their relaxing night in.
Calm Club Big Night In Kit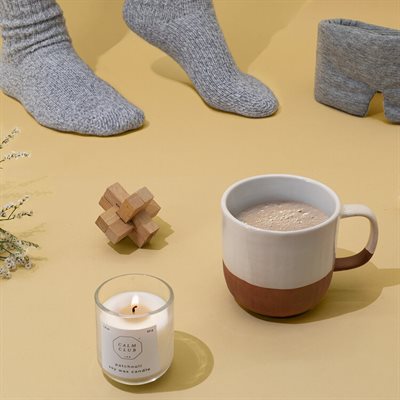 Gemini (May 21- June 21)
Geminis are the thinkers of the zodiac. They're always exploring and looking for change. Instead of ecards, send some Valentine Cards this year so you can express your love and thoughts through snail mail. These Animated Valentine Cards with Envelopes feature classic art from the 50s as well as simple folds and rivets that give each one some kind of action. Cute, suggestive and puzzling all at the same time! Eight different 4 to 6-inch tall Valentines with blank backs. Envelopes included. Illustrated box with clear acetate lid.
Animated Valentine Cards with Envelopes
Cancer (June 22 – July 22)
Cancer's are very attentive and affectionate; they are the nurturers. A delicious meal has always been the way to one's heart. "The role that food plays in love. And while it confirms the way to a man's heart is through his stomach, this is true only for a slight majority of men. What's surprising is that nearly half of women indicated that food is the way to their hearts as well." Eating pasta on Valentine's Day is a match made in heaven. Pasta symbolizes romance.  It's about setting aside time to make a day extra special for your special someone as love and carbs will be in the air.
Pasta Grande Silicone Kitchen Tools
Leo (July 23-Aug 22)
"Leo's love language is definitely physical touch—these lovers need affection to be showered with affection. They also appreciate quality time with their loved ones and words of affirmation." Since we can't physically see each other these days, how about the next best thing: A vintage telephone receiver so you can talk on the phone like it was the 60s, 70s and 80s. Remember those marathon chat sessions? Enter the Talk Dock! It Acts as a dock, charging station and receiver all in one, this lets you charge your phone, talk to mom and finish your Bananagrams Game all at once.  Talking on an actual phone brings you more connection because you hear one's voice. "Whether with a stranger or an old friend, hearing someone's voice was an integral component of feeling a real connection."
"I just called to say I love you
I just called to say how much I care
I just called to say I love you
And I mean it from the bottom of my heart."
Talk Dock
One pink left:
Danna Bananas has more black in stock:
Virgo (Aug 23-Sept 22)
Virgos are highly intelligent, practical, analytical and creative. They would enjoy solving a puzzle. This is one of the best hobbies to stretch their brain muscles and increase quality family time.  Jigsaw puzzles are also fun and a inexpensive hobby.
Archie Love Triangle Puzzle
Libra (Sept 23-Oct 22)
For the social butterfly in your life (aka Libras!), the Live Streaming Kit would be a rather apropos Valentine's Day gift.  As we navigate work, school and play by this socially distant way of life, people are relying on streaming video to stay connected.
Live Streaming Kit
Scorpio (Oct. 23-Nov. 21)
We know a Scorpio loves to be a detective! Give them a gift where they can put their investigative skills to the test and explore something new and spicy with the Kama Sutra Cards. This game will make any mysterious Scorpio happy because they can put their probing hat on.
Kama Sutra Cards
Sagittarius (Nov. 22-Dec. 21)
For the active and outdoorsy Sagittarius, Sock Monkey Pilot Hats will keep you warm for all the winter activities.
Capricorn (Dec. 22-Jan. 19)
Help Capricorns take a break this Valentine's Day with the Goat Yoga Party Game. Since Capricorns are so pragmatic, this Goat Yoga Game will give them the pause they need while helping them have fun at the same time.
Aquarius (Jan. 20- Feb. 18)
For the independent and logical Aquarius, the Mould Your Own Dream Boyfriend is a perfect gift. Aquarius' are social beings, but like anyone they do need their alone time to recharge. With this DIY kit, they can design their own dreamy boyfriend, fashion him and enjoy as he gazes at you adoringly but when they need a break, just stick him the drawer.:)
Mould Your Own Dream Boyfriend
Pisces (Feb. 19-March. 20)
Pisces are selfless and compassionate so using the I'm Saving the Planet – What Are You Doing Shopper is a wonderful way to support their environmentally friendly journey.
I'm Saving the Planet – What Are You Doing Shopper
The post Valentine's Day Gift Guide Based On Your Zodiac Sign appeared first on Blog - DannaBananas.com.