Snacks, Apps & Drinks for a Canada Day Get Together
Calling all Canucks! We've got all the Canadian-inspired recipes you'll need to celebrate Canada this year. From ice wine sangria to Canadian critter cupcakes to a maple-mustard clubhouse sandwich you can easily make for a small crowd, (or even just your crew), this month we're bringing you some homegrown flavours in our delicious nod to the nation. Sounds pretty tasty, eh?
Watermelon Caprese Skewers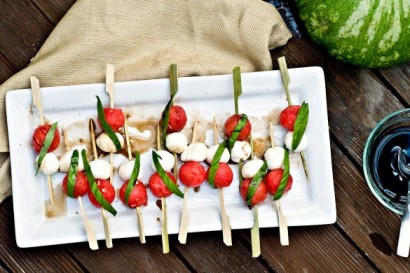 Made with just four ingredients, this portable salad alternative is fresh and fruity not to mention healthy and hydrating. Three cheers for party foods you feel good about serving!
Makes 10-15 skewers
You'll Need
1 whole watermelon
1 (200g) container mini bocconcini, drained
1 pint cherry tomatoes
6 fresh basil leaves, torn
1 package thin wooden skewers
Optional: balsamic honey glaze (recipe below)
Prep and Cook
1

Cut the watermelon into 3-inch slices. Make as many watermelon balls as you can using a melon baller. You won't need all of them, but the extras can be stored in the refrigerator for up to five days.

2

Skewer watermelon balls, bocconcini, cherry tomatoes and basil in any order making as many skewers as possible.

3

Serve cold with balsamic glaze, if desired.To make balsamic glaze, whisk together ¼ cup balsamic vinegar and 2 teaspoons honey. Drizzle over skewers or transfer to a small dip bowl and serve on the side.
Canada Day Party Punch
Ah, summer. There's nothing better than getting together with family and friends – in the backyard, around a pool, at a cottage or anywhere else you like to gather. If you find yourself entertaining this Canada Day and need a quick and delicious punch recipe, we've got the perfect one.
This punch is probably one of the easiest around to whip up and serve to a crowd. Plus, it's so tasty and summery. Enjoy!
Serves 12
You'll Need
1 can frozen pink lemonade from concentrate, thawed
1 L cranberry cocktail
1 L Canada Dry ginger ale
Ice
1 lemon, thinly sliced
Prep and Cook
1

Combine lemonade with water, as per the directions on the can. Stir in the cranberry cocktail, lemon slices and enough ice to chill.

2

Just before serving, stir in the ginger ale. Add more ice, if needed. Then put up your feet, have a sip of your ice cold bevy and enjoy your summer day!
Canadian Critter Cupcakes
Keep the kids busy as beavers with these easy to make and decorate beaver cupcakes that are worthy of any Canada Day celebration. You can use homemade or store-bought cupcakes and candy from the bulk food store to put this edible critter creation together.
Makes 12
You'll Need
12 chocolate cupcakes with chocolate frosting (store-bought or homemade)
24 candy eyeballs
12 red candy-coated chocolate buttons (like M&Ms)
24 brown candy-coated chocolate buttons (like M&Ms)
24 slivered almonds
Prep and Cook
1

Place cupcakes on a serving platter or cake stand. Press candy eyeballs into place. Gently press and centre the red candy-coated chocolate buttons below the eyes to make the nose.

2

Insert brown candy-coated chocolate button above the eyes to make the ears. Press slivered almonds into icing below the nose for the teeth. Serve immediately or store at room temperature in a covered container for up to 2 days.
The post Snacks, Apps & Drinks for a Canada Day Get Together appeared first on Blog - DannaBananas.com.